March 12, 2006
Suburban spaces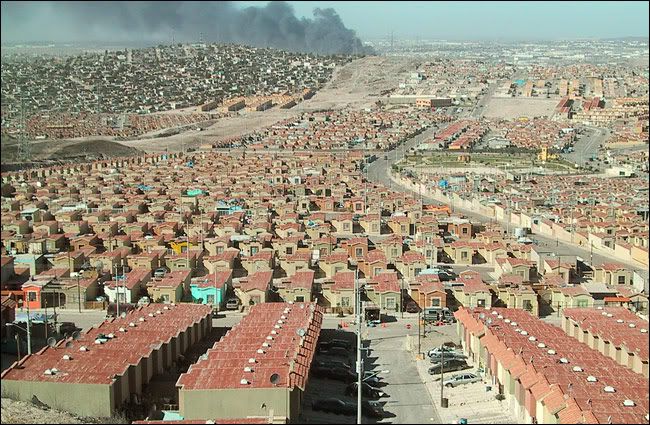 ...Only a few years later, the lawns are now cluttered with car repair shops, grocery stores and taco stands. New floors have been added, single-family homes have been joined together to house extended families, and many of the beige facades have been repainted in bright colors. Mr. Cruz sees the mix as a richer, more vibrant landscape — a spirited answer to the alienation that many of us associate with conventional American suburbs…
I came across this article about Teddy Cruz, who has some fascinating views on modern architecture and community.
I grew up in Southern California, surrounded by the gated communities Cruz talks about. I lived in an apartment complex for a short time, but it only partially felt like a community, like where the association would sponsor a "Halloween decoration contest" (which we won, yeah!), but I never made friends with the kids in the neighborhood. It is a very different feeling from the kind of community I experience when sitting on my stoop in Hayes Valley, San Francisco, meeting my neighbors' dogs and kids.
I seriously have a hard time with neighborhood associations and their restrictions regarding the color of your house, where you hang you laundry, etc. Seems awfully stifling, as opposed to the communities where the members are free to transform their space how they want to. Even if they want to keep a bunch of car parts in their front lawn.
Cruz' designs for new suburban spaces are mentioned, but as the plans have not been approved yet, there are no pictures as of yet. I would be very interested to see how they turn out. His ideas and influences are fascinating and could be very valuable in the future of our communities.
Cat: 
 | Time: 8:18 am  Comments (0)