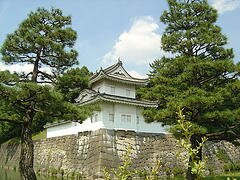 by LOP3Z
During the first few weeks of the semester, students at the East Asia Center are required to take an unguided tour of Kyoto, where they are expected to learn how to get around and familiarize themselves with the many wonders the city has to offer. Students are then expected to document their explorations by taking photos and writing reflective papers.
One of our students, James recently wrote about his experiences on the unguided tour. Along the way he encountered naked men in the public bath, fire dancers along the riverside, a heavy metal concert, ancient temples, tasty Japanese cuisine, and old castles haunted by ghosts of ninjas. He writes:
The weekend following my debut in Japan flowed through seamless transitions of sightseeing and a taste of Kyoto's night scene. Upon arrival on Thursday night, Zaak Kersteter and I made our way down to where Imadegawa Dori crosses the Kamo river, and headed south for a while until hitting a giant mall-like market downtown. Most of the stores were closed by the time we got there, but the people were still parading about en mass—or so I thought. At that early point in my Japan adventure, I lacked the knowledge of how massive the crowds can be.

Continue reading James' entire paper
.